Why you should add Waterford City to your Irish itinerary and what to see in Waterford
As the oldest city in Ireland, Waterford has gone through a lot – from the founding of the Vikings through the economic crisis and total decline in 2008, or the construction of a special triangular roof in the middle of the city. In addition to a diverse history, it also offers art and beautiful nature. In this article, I will try to convince you to add the city of Waterford to your Irish itinerary.
---
This article is not happening only because I live in Waterford and I want to (finally) introduce it to you, but also because we here in Ireland have not been able to travel more than 5 km from our houses for about half a year. This year, not many of us will go abroad, but rather focus on a staycation. That's why I want to write some ultimate itinerary about Waterford and maybe the locals (and maybe you, who are just planning to visit Ireland) will give it a chance.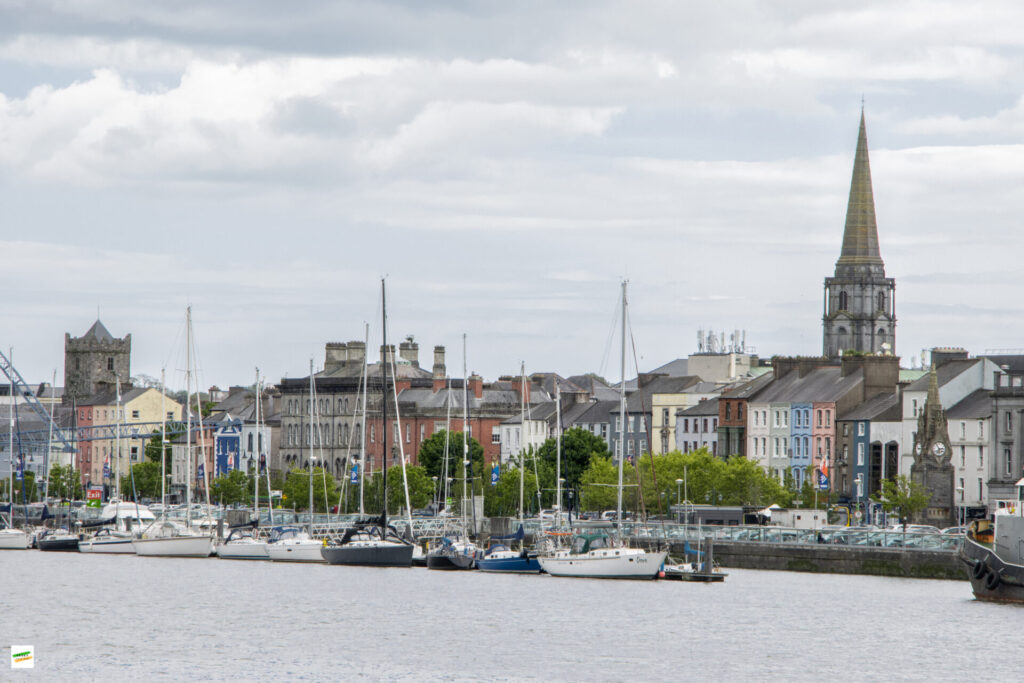 I have divided the article into sections in which I'll try to present to you as much as possible. I really didn't want to do "24 hours in Waterford" because you may not like what I like, so everyone can plan a trip to their liking (despite the fact that some places are not weather friendly and thanks to the following listing you will be able to easily edit the itinerary).
For Fans of History and Architecture
For Culture and Art Lovers
For Lovers of Entertainment
For Shopaholics
In Natural Habitat
It's Foood Time
For Fans of History and Architecture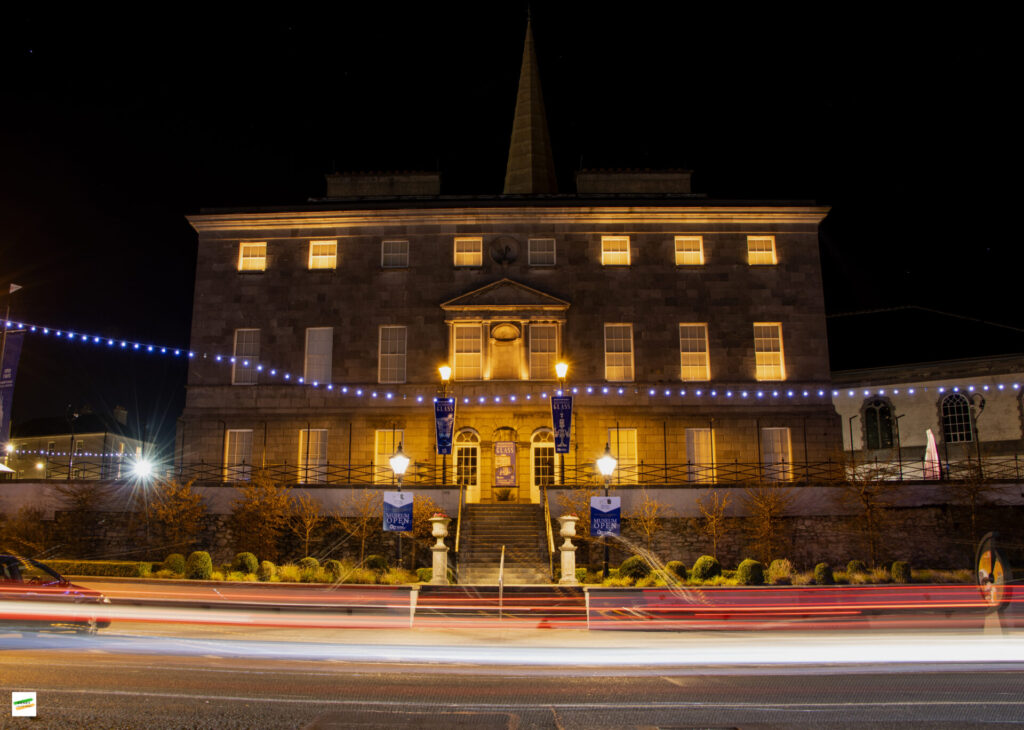 As you know from the introduction, Waterford is the oldest city in Ireland. It was founded by the Vikings and some stuff remained here after them. Other quite cool attractions were created to support tourism. If you are a history nerd, be sure not to miss the so-called Viking Triangle, which can be found in the middle of the city and which consists mainly of the so-called Bishop's Palace, the museum (where the real sword of Henry VIII.) and Reginald's Tower. It is not the only tower in the whole city, but it is the only one you can get into. The other towers can be found on Railway Square, Castle Street, Brown's Lane and Little Patrick's Street (the fifth preserved tower is on school grounds and inaccessible to the public). If you are interested in the Viking Triangle, you would probably know that you can buy a combo ticket – either to all four museums (Bishop's Palace, The Medieval Museum, The Irish Museum of Time and The Irish Silver Museum) or also to the Viking Triangle and Mount Congreve (which are cute gardens outside the city). However, you can only get to Mount Congreve by car, on foot or by bike. Public transport does not run there. It takes almost two hours on foot, so you should probably choose the best option for you.
As soon as you are in the Viking Triangle, notice the monument at Bishop's Palace, which was created to commemorate the victims during 9/11. This is a real piece of construction from the New York twins. The glass pedestal was made by a local glassmaker, who in the past created a memorial for New York firefighters. I don't even know why the monument is here in Waterford, and every time I see it, I wonder if that piece of metal killed someone…
Behind Bishop's Palace you will also notice Christ Church Cathedral. I'm not sure how open it is, even during Covid, but if you come to visit around Christmas, you may be lucky enough to hear the local choir train to perform in this church. And my goodness, this is an experience!
Also add King of the Vikings to the list, which is a Viking virtual experience (if VR makes you feel dizzy, don't go there). It's one of the most popular attractions in the city, so be sure to book your tickets in advance. Honestly, book everything in advance, because Covid hehe
As you walk the streets around the Viking Triangle and King of The Vikings, don't miss The Dragon Slayer Sword. A wooden 23 meter long sword (which you can't only take pictures of, but also touch – I would not recommend at the time of the coronavirus). The sword is located next to the King of The Vikings and the ruins of the French Church and Blackfriars Abbey. If you are wandering here in the summer months, get ready for crowds of people enjoying live music at the Summer in the City festival.
Definitely make time for Waterford Crystal too. You may think you're not interested in your crystal, but believe me, this one should. After the Second World War, he helped him start the Czech Republic again. And the main designer was also Czech. Unfortunately, even though the factory held on to this century, it was hit by the economic crisis and closed in early 2009. Today, some crystal is still made, however, the Waterford Crystal at The Mall in the city lives mainly on tourism. And one more interesting thing in conclusion, if you are not entirely convinced – Waterford Crystal is behind Time Square's New Year's crystal ball, trophies for the French, German and Belgian Gran Prix in F1, or the People's Choice Awards.
Finally, I must recommend The Book Centre. A local bookstore that offers much more than just selling books. From the outside, The Book Centre may not look tempting, but the interior will be enjoyed by any lover of architecture, history and pop culture. I don't want to spoiler much, but the inside gives me strong Harry Potter vibes and it fits perfectly in a bookstore. And what does this building have to do with history? Originally there used to be a cinema! (Which was also in neighboring Supermacs). Today, The Book Centre offers postcards, magazines, books, gifts, textbooks, and on the mezzanine you can even have a hot drink in the local café.
What else as a fan of history and architecture not to miss when visiting Waterford?
The Irish Silver Museum
A Viking boat right next to The Reginald's Tower
Epic Tours – if you want a Viking Triangle with commentary. And if you are not a fan of guided tours, then I have a map with historical attractions for you.
Blue plaques of Waterford – how many do you notice around town?
A piece of ruins in the middle of Penneys (yes, you read that right, you'll find them downstairs on the ladies' floor haha)
Grannagh Castle outside the city (you can only get there by car or bike, it's really far on foot #triedforyou) – funfact: It's located in County Kilkenny, but since you're probably going to pass by, I'm mentioning it.
1848 Tricolur Celebration in June. This celebration is organized thanks to Thomas Francis Meagher, who in 1848, for the first time in history, flown the Irish flag in building 33 The Mall.
The mirrored roof of the Apple Market and the beginning of O'Connell Street from Great George's Street, where are a lot of nice buildings me thinks.
You may also want to stop by the waterfront at Waterford Whiskey if alcohol is your interest. In that case, I'll add another funfact: This building used to make Guinness. Until 2013. Today, there is a distillery in the same building.
For Culture and Art Lovers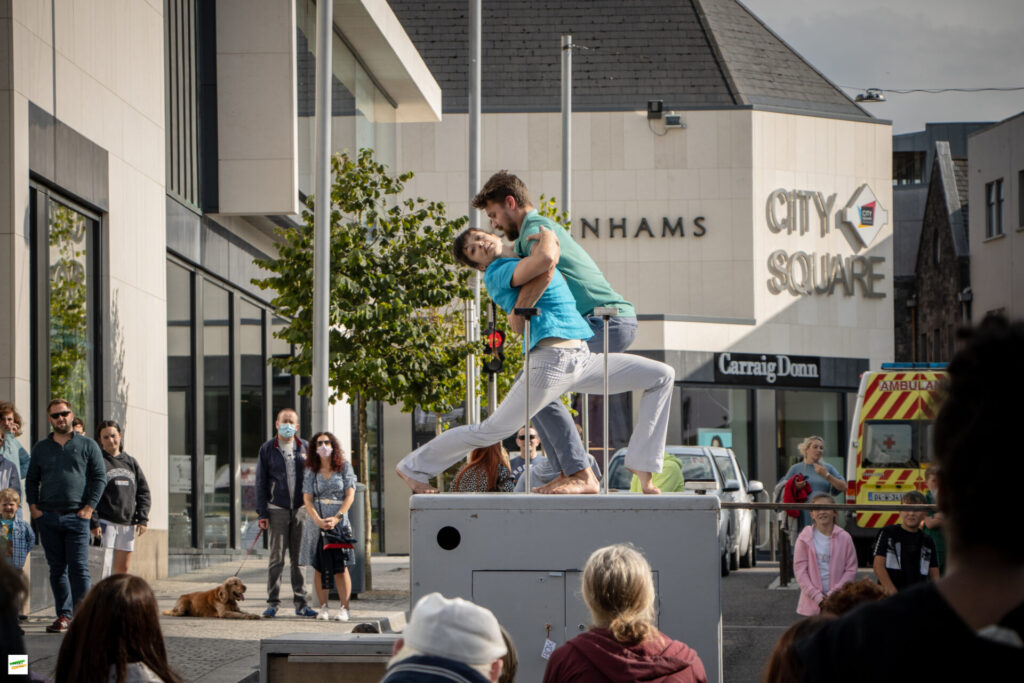 Waterford is known for its year-round festivals – whether it's international artists performing their art on the city streets, or artists painting amazing paintings on buildings, or perhaps a food festival or one of the biggest Christmas festivals on the island – Waterford has it all! If this sounds like something you don't want to miss, then Waterford is for you! There are usually a lot of those festivals between March (when Patrik normally digs up) until Christmas. I'm not sure what it will look like this year, but I know there will be Waterford Walls (I wrote about them here).
According to the internet, we can also look forward to Summer in the City (free music throughout the city during the summer), Spraoi should also return during the holiday in August (this is the festival that brings artists here, who then perform on the city streets), The Harvest Festival should not miss visitors in early September (foood) and if you happen to arrive in October, you can look forward to more artistic performances at the Imagine Arts Festival. The whole festival year will then end with Christmas Winterval. (I'm finishing the article in October, thus the link to Winterval – the largest Christmas festival on the whole island – re-co-mmen-ding)
It depends on Corona and the restrictions whether most of these festivals will take place in the end (Waterford Walls should, because it is not run on spectators). But if you're not really into festivals, or if none of them happened during your visit, you might be interested in one of the following:
If you are a crystal lover, know that another factory is located just a short distance from Waterford Crystal. This is a different company – Kite Design Studios. What is interesting about it is that it's a really small studio and one can watch the production of crystal directly from the street (sometimes they are closed and I'm not sure how it will work now, but hopefully you will be lucky!).
From the galleries you can choose between GOMA (on Lombart Street), Greyfriars Municipal Gallery, Waterford Gallery of Art, Garter Lane Arts Center, or The Rogue Gallery and Studios. They all usually have some exhibitions (I'll repeat, but it depends on Covid, of course).
I would also like to recommend you to my favorites The Parlor Vintage Tea Rooms, where various interesting events (concerts and performances) have been held from time to time, and to which the Irish President himself once visited. In addition to hot drinks, food, desserts and alcohol are served in the "tea room".
For Lovers of Entertainment
If you're wondering what you can do for fun in Waterford (or you're tired of history, architecture, culture and art), then say no more. You can try The Great Escape – among their escape rooms you can also find themed Hogwarts or Game of Thrones (from which I escaped without ever seeing the series muhaha). Right in the same building, you can try your hand at ax throwing in Axe Junkies – Urban Ax Throwing. Because it's definitely fun!
Well, if you enjoy escape rooms and you enjoyed King of The Vikings, then why not combine both and try to escape from the room but in virtual reality? You can try this and much more at Velocity VR.
And if you don't have enough games, or just prefer video games or even billiards, be sure to visit the RA Escape Gaming Café at Park Road.
Are you tired of virtual things and would you rather "touch" everything? Activate is right for you! In Activate you can play mini golf, climb a wall, beat a friend in a bowling alley and much more.
Have you tried all these action activities and want to relax in nature? Then Greenway is exactly what you are looking for! A 50 km long cycle path connecting Waterford with Dungarvan. A place full of beautiful nature and spectacular views – mountains, sea, viaducts and much more. You can read about the cycling path and where to rent bikes here.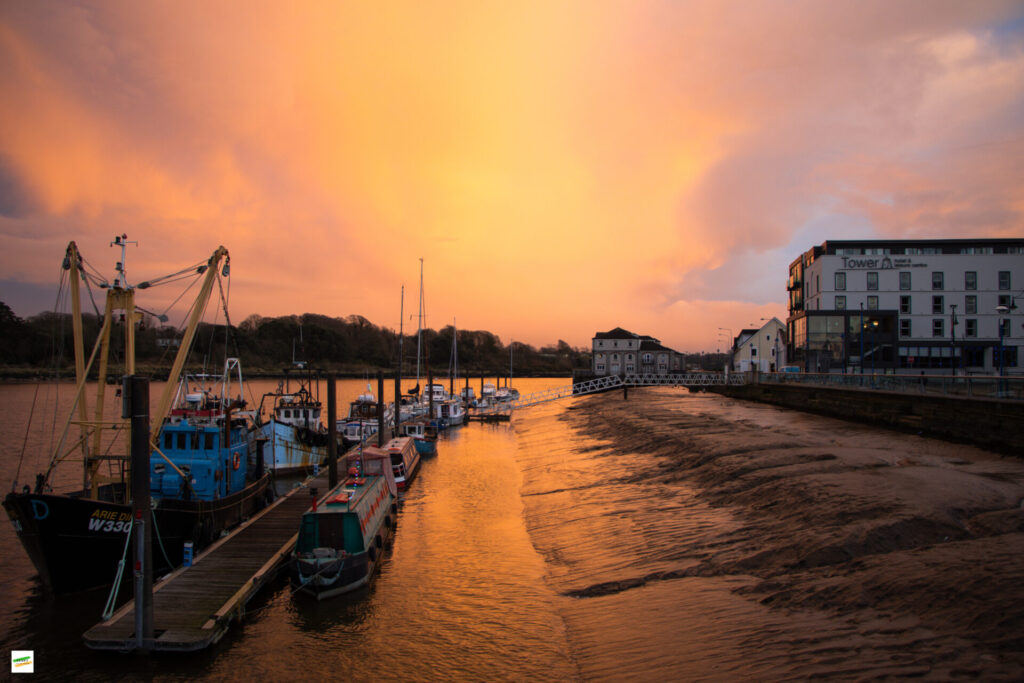 Finally, I would like to recommend a very nice thing and that is a boat ride on the river Suir. I was lucky enough to try it once, even though I'm afraid of water, it was very nice. This isn't just any ship moored in port, but a Brian Boru ship. Apart from the fact that the captain will take you almost to the sea, he will let you climb the bow and, as a true tourist, take pictures of it all.
For Shopaholics
Waterford is definitely not no. 1 shopping spot – we don't have much here and unfortunately the business is rather declining, but I would still like to highlight a few local shops that are not Penneys haha
Finders Keepers – an absolute must! The little shop on Little Patrick's Street has the most beautiful homeware stuff I've ever seen. Lisa not only imports goods, but also supports local artists, so it's possible that you can take home a piece of Waterford art.
Rainbow Records – second hand music shop – you can find singles, CDs, vinyls and DVDs for almost free.
The Book Centre (for those who skipped the first part) – the most cute bookstore! In addition to books, you can also get gifts, postcards, and on the mezzanine floor, after shopping, you can have a hot drink while admiring the beautiful historic interior.
The Vintage Factory – as the name suggests, this is a vintage clothing store. But don't worry, you won't buy pulled-out jeans after a sister there. They really have nice things there and for a very good price 🙂
Waterford Comics – the first comic book store in Waterford! In addition to traditional comics, comic book characters, Funko Pops and so on, you can also buy Asian goodies here (shh, you don't have it from me).
Tower Gift Shop – the best gift shop in the city. You will find it a short distance from Reg. Tower towards the Quay. They have a lot of great things in it, I definitely recommend it if you want to take a souvenir with you.
Touristic Office – located on 120 Parade Quay under the name Discover Ireland
More small local shops can be found around the waterfront. Food markets are also held in John Roberts Square (the square in front of Penneys) on Saturday morning until afternoon.
In Natural Habitat
I understand that the city is not for everyone, so I'll give you a few natural tips right in Waterford City!
The first, and completely logical option, looking at the map is People's Park. It can be a nice place, but in my opinion it lacks water and sometimes when it's very nice, there are unnecessarily many people (and children) in it. On days like this, I prefer Waterford Nature Park or Kilbarry Park. It's located outside the city, towards Tramore, and it's a sports park. It's also located next to the gym. The great news is that it's only half an hour's walk from the Viking Triangle and still straight ahead! If you have a bike, you can go to the park with it, and if you drive, you can park directly on the premises (you will pass through the gate to Kingfisher Gym, you will pass by the building to the parking lot of the park itself). Unfortunately, it's quite a newly created park, so there aren't really well-grown trees at the top, but it's really nice to be chilling there and you can see the Comeragh Mountains from the top.
Once you are at the gate of the Kingfisher gym, just cross the road to the other side and take the path along the river. Sometimes there are a lot of people there, and cyclists from Tramore return here, but otherwise it's also very nice.
And now I'm going to tell you a secret. This year was finally a newly built trail around the River Suir, from which you could see a few photos on my Instagram. This trail is all natural, so I would not recommend it in the rain, or maybe with a stroller, you get it. The difference between this trail and the two parks is in the noise – you have big roads around both parks and you can still hear the cars. While on this trail you hear only birds and occasional passing boats. You can find the May Park Trail behind the hospital, which can be reached by bus line W5 or by car (on foot too, but believe me you will be dead then).
And that brings me to the cherry on a top! Did you know that Dublin is not the only one with a deer park? If you want to say hello to Waterford deer and enjoy nature and beautiful views, be sure to head to Little Island. It's located behind Waterford, towards the hospital (about 10 minutes from the end of the May Park Trail). The island can be reached by ferry, which runs free of charge seven days a week and also accommodates pedestrians. On the island you will find Waterford Castle (which is an expensive hotel), a golf course, tennis courts, a few walkable trails and hopefully deer!
If you don't really want to leave the city centre, or you don't have enough time for it, then I would recommend one mini park with history – The Wyse Park. Located in the centre, next to the Apple Market (square with a triangular roof). You will find mature trees, benches and the history of Quakers on "tombstones".
Ultimate view of the city!
For avid photographers and visitors to Waterford in the winter months, I have a real icing on the cake. Unfortunately, Waterford has no tower from which you can enjoy the view of the whole city, and usually people only use the ferris wheel during Winterval. But there is another possibility – natural. Above the train station on the other side of the river there is an amazing view of the city. Enter "Waterford Cliff Walk" into Google Maps and you'll see the entrance to this trail – stay on the road all the time, walk around the golf course and head towards the cliff. In the summer months, I don't recommend this trail, because it's not maintained and the last part before the epic view is completely overgrown with nettles.
It's Foood Time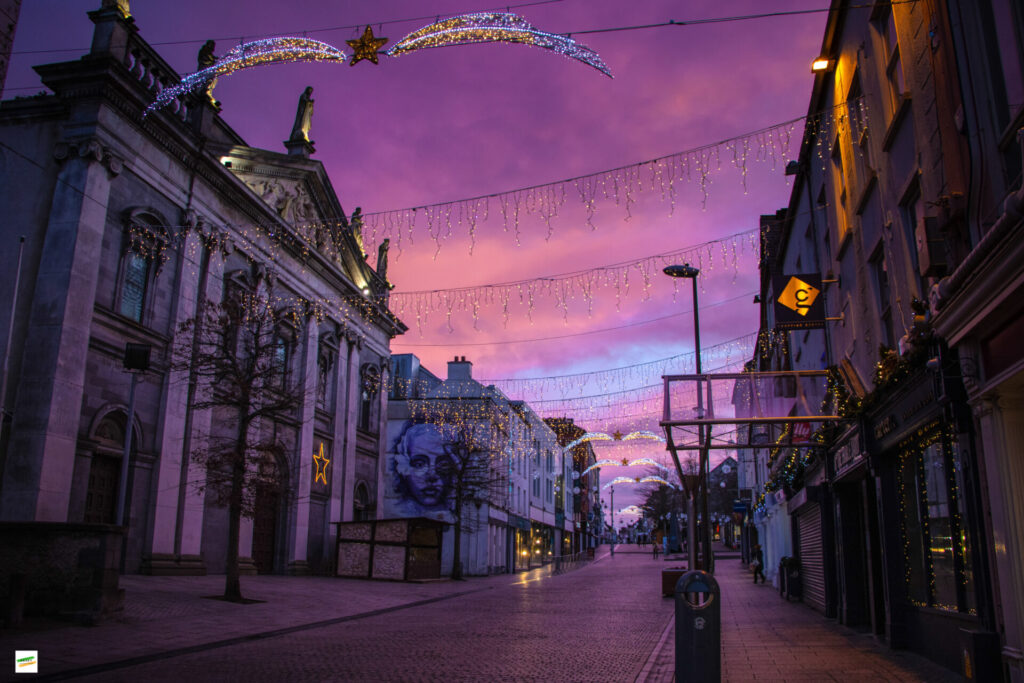 The most important thing in the end – food! Before I give you recommendations for the best food spots in Waterford, I would like to recommend you a local pastry-like – Blaa. It is a bun originating from Waterford and you will not find it anywhere else in Ireland (but you can buy it here in every supermarket). And now it's the food!
I have tried the following businesses in person, or someone close to me has tried them, so I recommend them. But there are many restaurants and cafes in the city. I only mention one company from the Apple Market, because the rest is usually full anyway.
Gino's – Speaking of the Apple Market. It is a small Italian restaurant, where they also make ice cream and milkshakes. Heaven! (And I can really guarantee their pizza – the best in town)
Grady's Yard – just five minutes from Apple Market, on John's Bridge. The establishment is known for various "craft beers", but also offers food – nachos, chicken wings, vegan burgers or pizza and more. (At the time of writing, the place is closed – I recommend checking out their social networks)
No. 9 Café – Opposite Penneys is my favorite restaurant (although it has a café in its name, they have a full dining menu). The interior is large and bright and they have a lot of tables to sit – in addition to lunch they also make waffles and pancakes (for breakfast!). According to their website, they should have gluten-free, veggie and vegan options (I always eat chicken, so I don't know hehe).
Momo Restaurant – Patrick's Street is one of the best establishments in Waterford. It differs from the others in its menu, so you can be sure that you are really eating something special. They also have veggie and gluten-free options in the menu and they will also make a vegan version by appointment.
Burzza – as the name suggests (Burger in Pizza) is an Italian-American restaurant under the Apple Market. They specialize in pizzas and burgers and pizza burgers. In addition to traditional meat options, almost the entire menu is available in a gluten-free version. They also have veggie pizzas and burgers (I don't think they have vegan options).
Morzio – is another different one. Located on Henrietta street just off Quay. This is a Singaporean restaurant, so for lovers of Asian food. It's the only Asian one I have tried in the city (unfortunately the other one I loved closed down). In addition to the classic menu, they should also have a buffet (all you can eat).
Phoenix Yard – an absolute novelty on the culinary map of Waterford. The courtyard on O'Connell Street is full of food stalls with various cuisines from around the world – from burritos, through chicken pieces and hot dogs, goulash to vegan dishes. This is the only place I've never been before, but I'm looking forward to tasting everything there (Update: I've been there and I've had sweet potato fries and they were divine!). At the moment, they also have a seating area right in front of the yard, but if the weather is fine, why not eat in the park or on the waterfront by the water and enjoy the view?
Berkana Bakery – on the waterfront is mainly engaged in hot drinks and baking and selling fresh Italian pastries, but also offers salads and sandwiches (and divine-looking cakes and things that look like Czech desserts – you can thank me later) and in house made gelato. I haven't had a chance to try it yet, so I'm not sure if they have gluten-free or even vegan options, but you won't pay anything for a peek!
The Italian Bakery – If you don't have time for a restaurant, you don't like anything at Phoenix Yard and you're not a McDonald's fan, then be sure to try out The Italian Bakery at George's Court in the city center. As the name suggests, this is an Italian bakery. In addition to breads and ciabatts, they also sell pizzas (pieces) and various desserts and cakes. And they even have gluten-free, veggie and vegan options!
The Ice Cream Place – speaking of an Italian bakery, I will immediately recommend a sweet dot at the end. We only have two ice cream places in Waterford – Gino's (not to be confused with the Italian restaurant) and the new The Ice Cream Place. Nothing against Gino's but they got no vegan options, while at TICP they have everything – ice cream, sorbets, milkshakes, sundaes, waffles, mini donuts, ice cream burgers,… Their ice cream flavors change almost every week, so you never even know what awaits you!
For coffee enthusiasts, I also have a few recommendations for places other than Costa or Starbucks and to also support the local economy (I haven't tried most because I don't drink coffee, but I have confirmed from people around me that these are nice places):
Here are some tips for the best pubs if you happen to stay in Waterford longer. Let me tell you – on the weekends, avoid the Apple Market as much as you can (and frankly every night). Yes, there are a lot of pubs and businesses, but it's also a place crowded with people, and from midnight you will see nothing but the local drunken youth laying on the ground. I wouldn't go to The Reg either, it looks nice and all, but they want 8 euros for a drink, which is a rip off even for Ireland.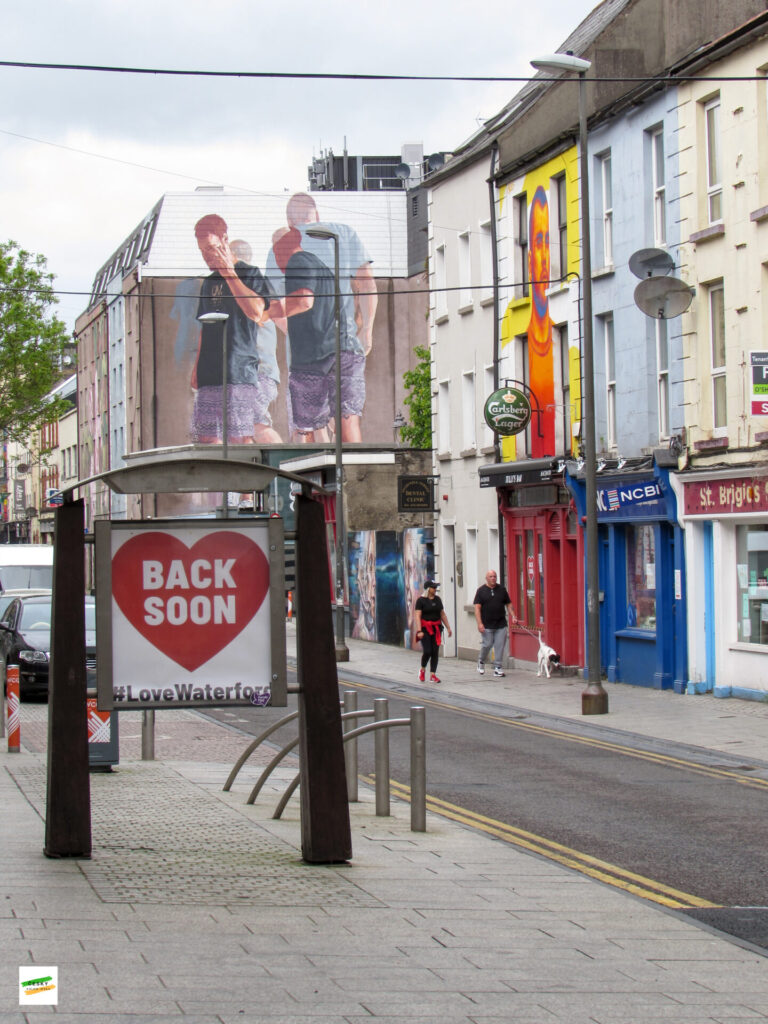 In the end, I have probably the most important information for you – toilets. I don't know if I'm the only one who always has to Google where they have toilets a tthe place I'm travelling to. However, whether you are the same type as me or not, it will save you time and googling. In Waterford, you will notice that there are two public toilets – one in the park and the other on the waterfront at The Clock Tower. But if you don't have change at the moment, or you just want something better, I recommend the toilets in the City Square Shopping Centre. Not only are they free, but they are the latest built and really very clean.
So here you have it – the ultimate guide to Waterford! Let me know in the comments if you the article made you want to visit Waterford. And let me know if you've ever been here and how you liked it.